There is a banquet where grains of wheat
sit and eat and shout for more,
and more is brought.
These banqueter seed-grains never
quit eating, and for eternity
the table stays replete.
Bulgur Pilaf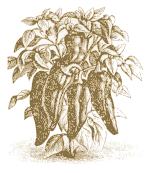 Total time: 1-¼ hours
6 tbsp. Butter
2 cups onion, finely chopped
3 cups Italian frying peppers, finely chopped
2 tsp. Salt
1 tsp. Pepper
3 cups bulgur
5 cups water or stock
2 tbsp. tomato paste
2 cups finely chopped parsley
Melt the butter in a large pot over medium heat, and sauté the onion, frying peppers, salt and pepper for 5-10 minutes, until the onions become translucent. Add the bulgur and sauté for another 5 minutes. At the same time, using a separate pot, dissolve the tomato paste in 1 cup water or stock, add the rest of the cooking liquid, and bring it to a boil. Pour the boiling liquid over the bulgur and vegetables, stir well to combine, cover, lower the heat, and let cook for 20 minutes, until all of the liquid is absorbed.
Turn off the heat and fluff up the pilaf with a fork. Add the chopped parsley, put a clean dish towel over the pot, replace the lid, and let the pilaf sit for 40 minutes before serving.
---