Mrouzia
North African Sweet Lamb
Versions of this dish are prepared throughout North Africa during Ramadan and Id al-Adha. The large quantity of honey preserves the meat — a necessity when a family is blessed with an abundance of meat but no refrigeration. It is sweet, rich, and best served in very small portions.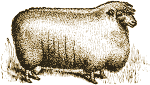 Marinate: Overnight
Total second-day time: 1-½ hours
3 lbs. boneless lamb, or 5 lbs. with bone, in large serving pieces
1 tsp. cinnamon
1 tsp. salt
½ tsp. black pepper
½ tsp. turmeric
¼ tsp. ground ginger
¼ tsp. cayenne
¼ tsp. cardamom
¼ tsp. nutmeg
¼ tsp. cloves
¼ tsp. saffron (optional)
½ cup oil
¼ cup unsalted butter
1 cup whole blanched almonds
4 cups water
⅔ cup honey
1-½ cups raisins
2 tbsp. orange blossom water
Mix together all of the spices and the oil. Rub this mixture into the lamb and let marinate for at least an hour, or as long as overnight.
Melt the butter in a large pot over medium heat, then add the lamb, stirring constantly, until the meat has browned lightly. Add the almonds and water, bring to a boil, lower the heat and simmer, covered, for an hour or until the lamb is tender. Add the honey and raisins and cook over low heat, stirring frequently, for another ½ hour, until the sauce becomes very thick. Turn off the heat, stir in the orange blossom water, and serve.
---