You seek to discover in My actions
the wisdom and hidden meaning of this world of form and time,
That you may then enlighten the coarse ones,
and lead every raw one to become cooked.
Turkish String Beans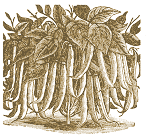 Total cooking time: 1 hour
Cooling time: 1+ hours
2 cups minced onions
3 lbs. trimmed string beans
4 cups water
6 cups peeled, seeded and quartered tomatoes
½ cup olive oil
2 tsp. salt
Put the onions into the bottom of a large pot, then put the green beans in on top of them. Pour in the water, then bring to a boil, lower the heat and simmer, covered, for 30 minutes. Add the tomatoes, olive oil and salt, and cook for another 30 minutes, until the beans are very well-done (al dente has no meaning in Turkish cuisine), Transfer to a serving dish and allow to cool for at least an hour before serving, either lukewarm, at room temperature, or chilled.
---