Earth — a great tablecloth spread with delicacies out there on the veranda.
When they ask you to join the feast, think for a moment:
do you deserve it? What about it?
Baba Ghanoush
Eggplant Cream Salad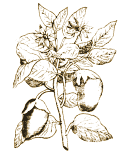 Total time: 1-½ hours
4-6 eggplants (3 lbs. total weight)
½ cup lemon juice
½ cup tahini or yogurt
2 tbsp. finely chopped garlic
1 tsp. salt
Garnishes:
2 tbsp. extra virgin olive oil
Several sprigs parsley
Preheat the oven to 400°F. Slice the eggplants lengthwise, brush them with olive oil, lay them flesh side down on baking sheets, and roast them for about an hour, until they are soft. When they have cooled down, remove the skins, chop the flesh coarsely and place it n a food processor. Add lemon juice, tahini or yogurt, garlic and salt, and puree. Spread onto a shallow serving dish, drizzle with olive oil and garnish with parsley. Serve slightly warm or at room temperature.
---