Hallaj In the Desert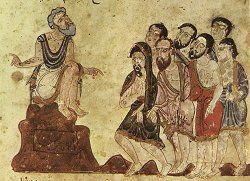 Returning from a pilgrimage, Hallaj was crossing the desert with four hundred Sufis. On day his companions said to him, "We have nothing to eat, and we are hungry; we would like a roast lamb." "Sit down," said the Saint.
When they were seated, he placed his hand behind his back and gave to each one a roast lamb and two small hot loaves. They ate, and then asked for dates. "Shake me," said the Saint. They did so, and there fell from him fresh dates in such quantities that they sufficed for all the company.
---