At the Golden Sufi Center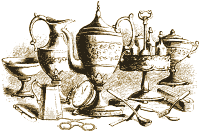 The Golden Sufi Center is high on a Northern California hilltop. For some, the steep, winding road to the house determines whether to continue coming to meditation. For others, the absence of rules and dogma influences their decision. For those who stay, a powerful inner working takes place.
We meet twice a week. We meditate, have tea and share dreams. Nothing seems to be happening.
The tea "ceremony" begins with many varieties of tea on the kitchen counter: Earl Grey, English Breakfast, fruit, spice, licorice — a mirror of the variety of people who come together to share this time. Food is arranged on the dining room table. There may be a cake, bread in different shapes and flavors, cookies, pretzels, chocolate candy, a pie, fruit, or corn chips, salsa and cheese! The food is prepared in love and shared in love — in the silent presence of the Beloved.
---