Dedication & Acknowledgments
This online book is a gift to all dervishes and their friends. It is dedicated to the memory of my grandmother, Frances Eberly, a no-nonsense Republican lady who played organ at the Congregational Church in St. Johns, Michigan most of her adult life (when she wasn't traveling the world). She sent me my first tesbih from Turkey almost twenty-five years ago.
The love and patience and support of my husband, David Seidel, and our children, Rebecca and Felix Seidel, is one of the greatest favors Allah has granted me, and the most delicious earthly sustenance imaginable.
I give special thanks to derviches extraordinaires Maggie Comparetta, Rupa Cousins, Rukiye Dell and LuAnne Hightower. Their love, intelligence and good humor has sustained me in the most challenging of circumstances.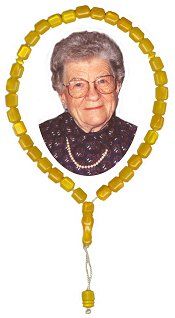 Frances Eberly
August 1, 1910
April 15, 2000
I am grateful to all those whose skill in translation has introduced the meaning of the Qur'an and the literature of Sufism to English-speakers. I am especially indebted to Amer Latif, who has translated a number of passages directly from the Persian of Mevlana Jelaluddin Rumi and Hakim Sana'i.
Many people have generously helped in the preparation of this book, and I thank them all: Dr. Nahid Angha; Subhana and Ibrahim Ansari; Abdulrakhim Aitbayev; Salman Baruti; Tosun and Jamila Bayrak; Sehvar Besiroglu; Kendra Burroughs; Gonul Cengiz; Fusun Dulger Charles; Dr. Celalettin Celebi; Nancy Dailey; Alyaa Eltorki and Hilal Mirkhan; Cuneyt Eroglu; Dr. Nevit Ergin; Judy Garabrant, Peterborough Town Library; Dr. Mohammed Ghanoonparvar; Tom Goldberg; Rabia Harris; Aisha Holland; Camille and Kabir Helminski; Bilal and Sabarah Hyde; Maryam Kabir; Mr. Khashani; Andrea Matthews; Ibrahim and Hegira Meneses; Michigan State University Library Special Collections; Nancy O'Brien and Barbara Jergens; Dave O'Neal; Feridun Özgoren and Nan Freeman; Rashid Patch & Hilal Sala; Gail Peach; Adnan Sarhan; Shaikh Tijani Ben Omar; Hajji Hüseyin Top; Frances Trix; Shaikh Taner Vergonen; Cem Williford; Peter Lamborn Wilson; Lora Zorian.
I apologize for any inaccuracies in the text; they are entirely my own.
---